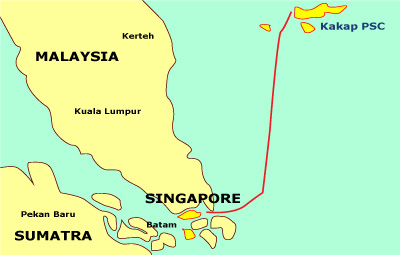 Location Map of West Natuna Transportation System
In the pipeline business, SPC holds interests in two regional gas transmission pipeline systems. The 654-kilometre West Natuna Transportation System is the first Singapore cross border sub-sea gas pipeline carrying gas from the West Natuna Sea to Singapore. A consortium of PSC blocks in West Natuna including the Kakap PSC owns this pipeline.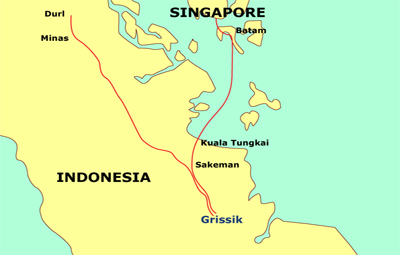 Location Map of Grissik-Duri Pipeline and Grissik-Batam-Singapore Pipeline
The 468-kilometre Grissik-Batam-Singapore Pipeline is the second direct gas pipeline transmitting gas from Indonesia to Singapore. Gas to Singapore commenced in 2003 under a 20-year term contract between Singapore and Indonesia. The 536-kilometre Grissik-Duri Pipeline is a trunk line that transmits gas from the Grissik gas fields to Caltex's Duri facilities under long-term contracts that commenced in 1998.